Reduce data entry time by adding contacts from Market Insights
How does this help?
Adding contacts from Market Insights will drastically decrease the amount of time it takes to add a contact manually to your account. You'll find that time spent on data entry has significantly decreased.
Model Match will also search for contact information and update the contact profile for you! Model Match will populate the following fields and search for additional contact information:
First & Last Name
Company Name
Title
NMLS ID
Location Address
Phone Numbers (Mobile, Personal, Work)
Email Address (Personal, Work)
Social Media Links
Website URL
How do I search for Individuals?
1. Log in to Model Match & open Market Insights.
2. In this scenario, we will be searching for an individual using their NMLS ID. Let's type in an NMLS ID in the Search field.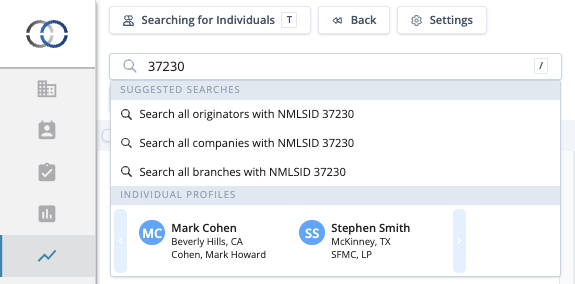 You can also search for specific individuals by name! We recommend searching with their full name.
3. Since we are searching for individuals, using the suggestions shown in the dropdown menu, let's click "Search all originators with NMLS ID XXXX"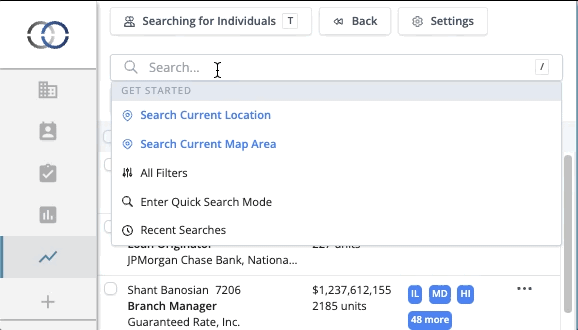 You may also click the name of the individual under the "Individual Profile" section of the Suggestion dropdown menu. You'll be directed to their individual volume report.
4. Now that you have results, we can add the individual to a Requisition from the results page. You can also do this by clicking "Add to Pipeline" on their profile in Market Insights.
Click the checkbox next to their name and click the "Add to Pipeline" button that appears at the bottom of the results panel.

5. You may now select which Requisition you would like to import the contact to. You may also Assign, Tag, Stage, and Add Notes to this contact record.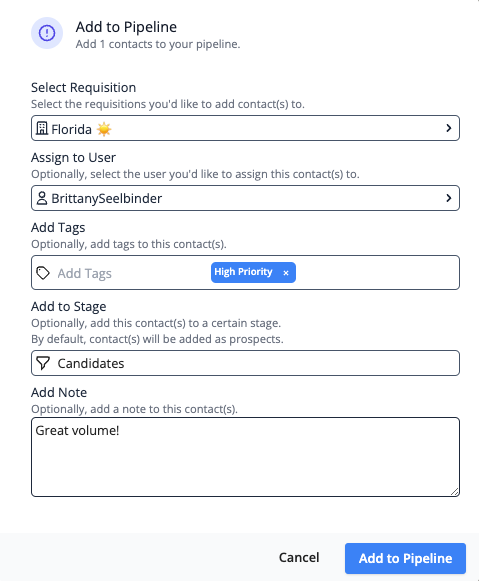 You're all done! You can now click "View Pipeline" to jump over to the Requisition and view the contact profile.