This article will show you how to access your billing information and update your primary billing method.
Requirements
1. Access to Payment Settings on your account
2. An active Model Match Subscription
Accessing the Billing Portal
1. Log in to Model Match and click on "Settings" from the Menu.
2. From the Settings menu, let's click on "Payment Settings".
If you do not have access to Payment Settings, please reach out to our Support Team at support@modelmatch.com or open a ticket by clicking here.
How do I download previous invoices?
You are able to download any previously paid invoice on your account.
1. Click "View Invoice" next to the paid invoice that you wish to download.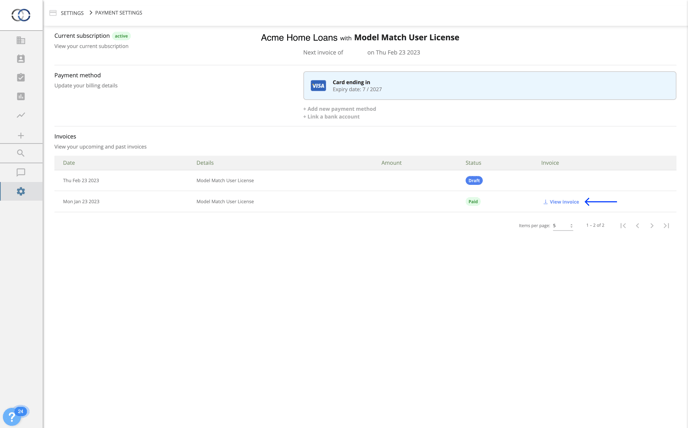 2. Depending on your browser settings, the invoice may automatically download or you may need to select where you wish to save the file on your computer.
How do I update my payment method?
On the Payment Settings page, we will show you the current primary billing method on file for your account. To update your payment method we will first want to add an additional payment method and then delete the previous one.
Let's click "Add Payment Method" to add a new Credit Card on file. Additionally, you can click "Link Bank Account" to directly link your Bank Account to Model Match.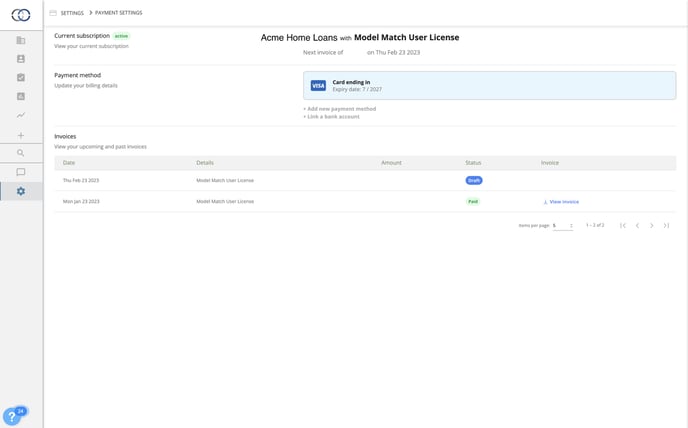 4. Using the prompt enter your credit card details. Once ready, click "Add Card".

Once the new payment method has been added, you can now click on your previous payment method to delete it from your account.